This is the article page for ammunition. For related articles please refer to the category page.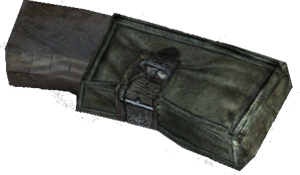 Ammunition is the term given to any item that can be used by a ranged weapon, usually a firearm. Ammunition is commonly found in "clips", cylindrical casings that hold cartridges (classically 6), or "magazines", cartridges stacked in a line covered by a casing. Ammunition in the Metro can vary from simple Ball Bearings to high caliber sniper-rifle ammo. Ammunition in Metro 2033 is used in long range combat to kill enemies.
In the Moscow Metro, pre-war military grade 5.45x39mm rounds, or MGR, ammunition is used as currency as not only have not enough bills and coins lasted since the nuclear devastation, but when metro inhabitants are in need they can use it as ammunition itself, though this does result in the person literally 'shooting money'. Furthermore, they are impossible to replicate to match pre-war standards, so counterfeiting is difficult. Ammunition is uncommon and is usually found on dead humans or in caches scattered through the game, but players can also gain ammunition by exchanging ammo types that they have for others at exchange kiosks for a service fee.
Below is a list of all the ammunition types in the Metro:
Ammunition List
Edit
Metro 2033 and Metro: Last Light :
Metro: Last Light exclusively:
Exchange Rate Table
Edit
Metro 2033
Edit
Metro Last Light
Edit
Ammunition Types and Calibres

Combustion Ammunition
Pneumatic Ammunition
Special Ammunition