This is the article page for locations. For related articles please refer to the category page.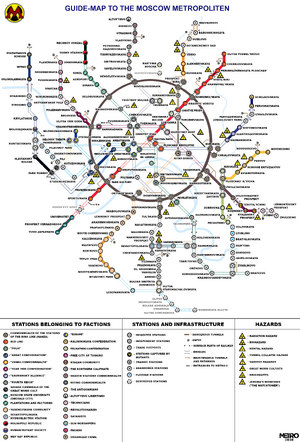 The year was 2013 when the bombs fell, Moscow and possibly the rest of the world have been destroyed by a large scale nuclear exchange, involving many of the world's superpowers. Humanity has fled to Moscow's Metro system, designed both for transport and as a bomb shelter. After twenty years humanity is close to extinction, with threats from the outside, and within. Each station has become a small nation state in itself with its own government. Alliances have been formed, wars have been waged. The locations of every station, tunnel, and surface outpost can be found on the map of the post-apocalyptic metro system.
Outside of Moscow, confirmed locations with existing communities of survivors include: Warsaw, Kraków, as well as a number of cities, towns and villages across Poland; Kiev, the capital of Ukraine; Minsk, the capital of Belarus; the Italian capital of Rome; plus plenty of other areas in Russia, such as the renowned city of St. Petersburg. There are several survivor communities in Kazakhstan.
According to the Hanza radio signal map seen in Metro Exodus, countries with survivor communities include: Canada, the US, Guyana, Argentina, Great Britain, Norway, either France or Belgium, Germany, Poland, either Croatia or Bosnia, Finland, either Chad or the Central African Republic, South Africa, either Afghanistan or Uzbekistan or Tajikistan, Japan, Indonesia, Australia and New Zealand.