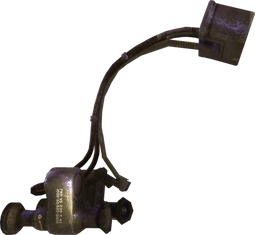 The standard Night Vision Goggles (abbreviated as NVG) found in the Metro enhance the user's vision in darkness, allowing them to see without using their flashlight. The night vision goggles are charged by the universal charger along with the flashlight.
Overview
[
]
Night vision goggles are used to sneak through areas or seeing traps when the player cannot risk using their flashlight. When the goggles are switched on, the player is much harder to detect than when they have the flashlight turned on. If the player uses the flashlight and the night vision together, they can extend the range of the NVG and see better. This drains the battery faster by around 40 percent, making the battery only last about 2 minutes from the original amount of about 3 minutes 20 seconds, but this makes it easier to see in very dark areas and is of great use when stealth isn't necessary. Like Artyom's watch, the 2033 version of NVG features a stealth meter at the top; red means the player is in well-lit area that easily detectable, yellow means the enemy will find you if they get close, green means you are hidden, but you will still can be seen if you are in close proximity with the enemy, finally "no light" means you are completely hidden, only noise can give your location away. 
One should keep in mind the drawbacks to using the goggles however. When the goggles are on, well-lit areas become difficult to manage through. The goggles obscure Artyom's peripheral vision. If the player is swarmed in an area with nosalises or lurkers, it is a good idea to take them off and use the flashlight instead. Taking them off will allow the player to see any mutants or NPCs trying to flank them.
In Metro: Last Light, the NVG return but with some slight differences; they reduce the wearers maximum visual range to some extent as any target the user may see will appear hazy and unclear. They can no longer be used in combination with a flashlight but appears to be equipped with an infrared spotlight (the infrared equivalent of a flashlight) which has the same effect as using the NVG and the flashlight together, but without the extra battery drain or revealing the user's location. The NVG in Last Light no longer obscure the player's vision, has a larger field of view, and the clearer vision means you can snipe with NVG equipped. Also, the wearing animation is removed, you will automatically equip the NVG right after pressing the N (default) key.
Locations
[
]
Trivia
[
]
Gallery
[
]