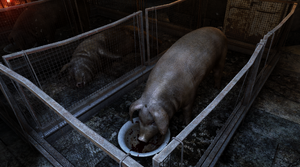 Pigs are found in many stations and are highly valued as one of the most luxurious sources of meat protein for the residents of the Moscow Metro.
Overview
[
]
It's unknown why there are so many pigs, but it can be assumed people brought pairs of males and females to start populations. They are some of the few living organisms that were not drastically affected by the radiation of World War III. Some of the known pig farms in the Moscow Metro include: Rechnoy Vokzal of the anarchists, as well as Sokol, Aeroport, Dinamo, and Belorusskaya stations of the trade outpost.
Appearances
[
]
Pigs appear in the original novel, various entries of the Universe of Metro 2033 series, Metro 2033, and Metro: Last Light.
Gallery
[
]