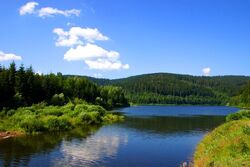 The Vistula (Polish: Wisła) is the largest and longest river in Poland, running through some of the country's biggest and most crucial cities like Warsaw and Kraków. She has become an important national symbol of this Slavic state in Eastern Europe. Most of the Vistula's drainage basin lies in Poland, while the remainder flows through Belarus, Ukraine, and Slovakia.
Overview
[
]
She is the 9th longest river in Europe and has always been of great economic, strategic, and cultural value to Poland throughout its history as a duchy, kingdom, commonwealth, and republic. The Vistula's estuary became settled by Slavonic peoples in the 7th and 8th centuries. Several North Slavic Polish tribes dominated these lands, starting from the 8th century, many of which later united into larger and more powerful societies. A 9th century historical document lists the Vistulans (Polish: Wiślanie) as being one of these groups, living in southern Poland; Kraków and Wiślica were their political centres. The Wisła was once connected to the Dnieper, a key river running through Belarus and Ukraine, and consequently to the Black Sea, through the Augustów Canal - considered by many to be a technological marvel of its time.
By 2033, in the Universe of Metro 2033, the Vistula has become fairly toxic due to the biochemical and nuclear waste flowing through it as a result of World War III. In Kraków, in the first few years following the 2013 conflict, the river came under the control of pirate-like bands of human survivors. However, after 2 decades of post-nuclear misery, few of these groups remain. The Cracovian stretch of the Wisła is home to the błotniak, a semi-intelligent mutant species. In Warsaw, the river has become completely frozen, apparently all the way from surface to bottom, as a result of the ongoing nuclear winter reigning there.
Trivia
[
]
The Vistula is of great cultural significance to the Poles, and thus it should come as no surprise that many Polish football clubs contain her in their names - such as: Wisła Kraków, Wisła Sandomierz, WSS Wisła, Wisła Puławy, and Wisła Płock among others.
Following the defeats of the November Uprising (1830-1831) and January Uprising (1863-1864), as Poland was increasingly stripped of autonomy and incorporated into Imperial Russia, it became known as the "Vistula Land" or "Vistula Country" (Russian: Привислинский край, Polish: Kraj Nadwiślański) in the years 1867-1918.
Gallery
[
]